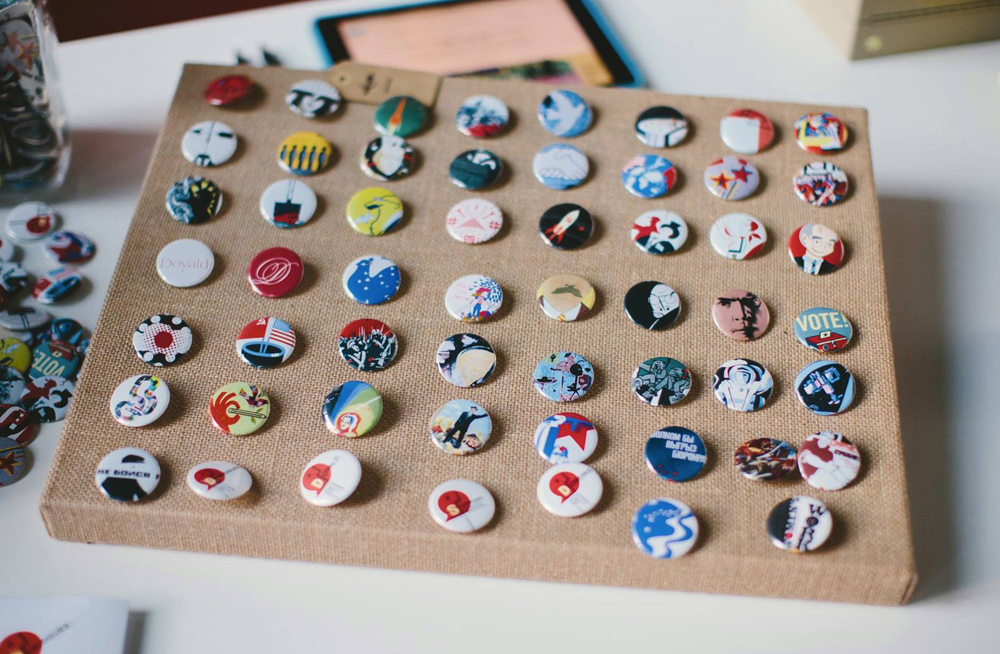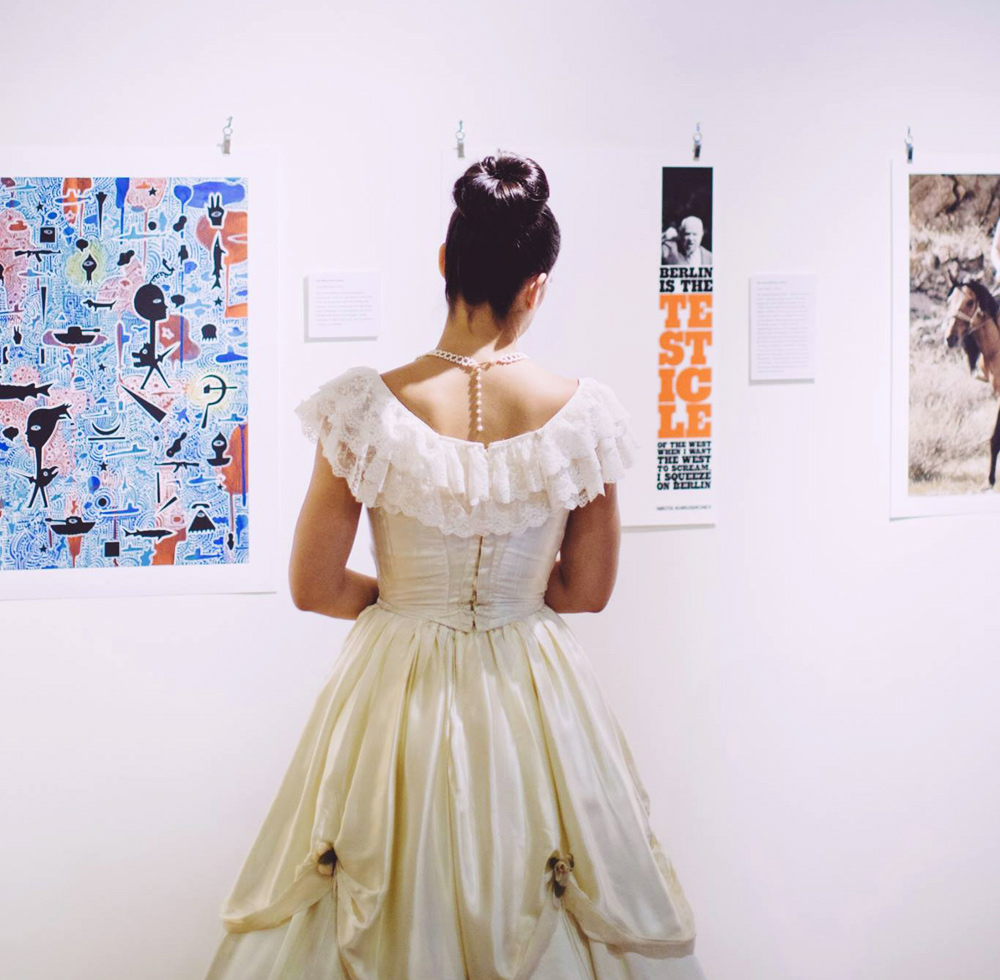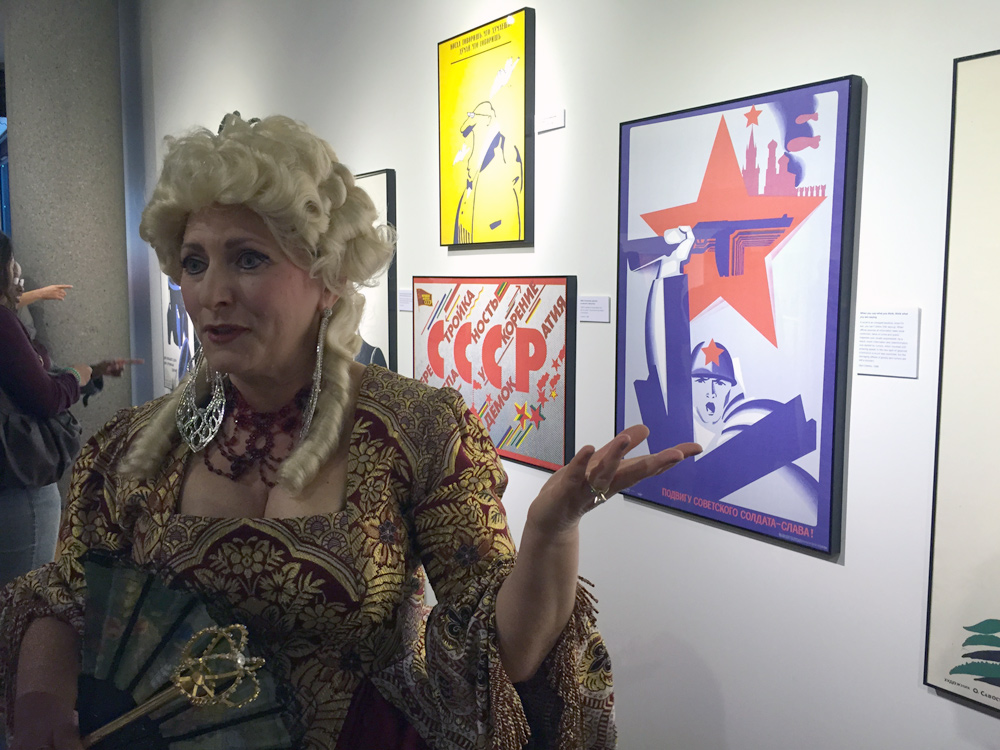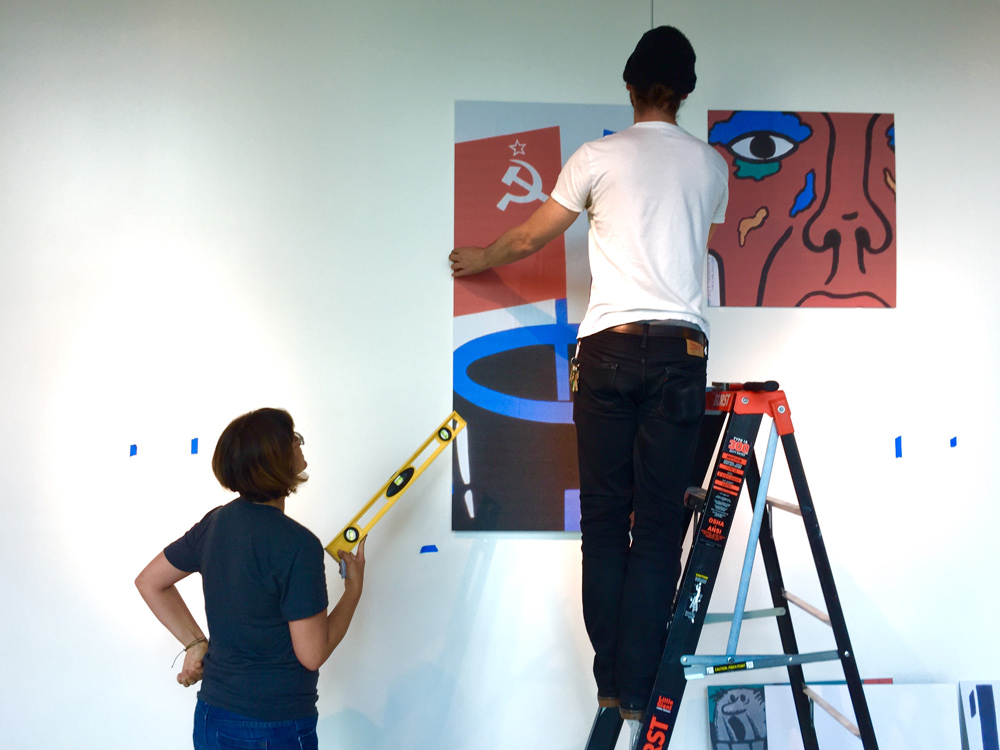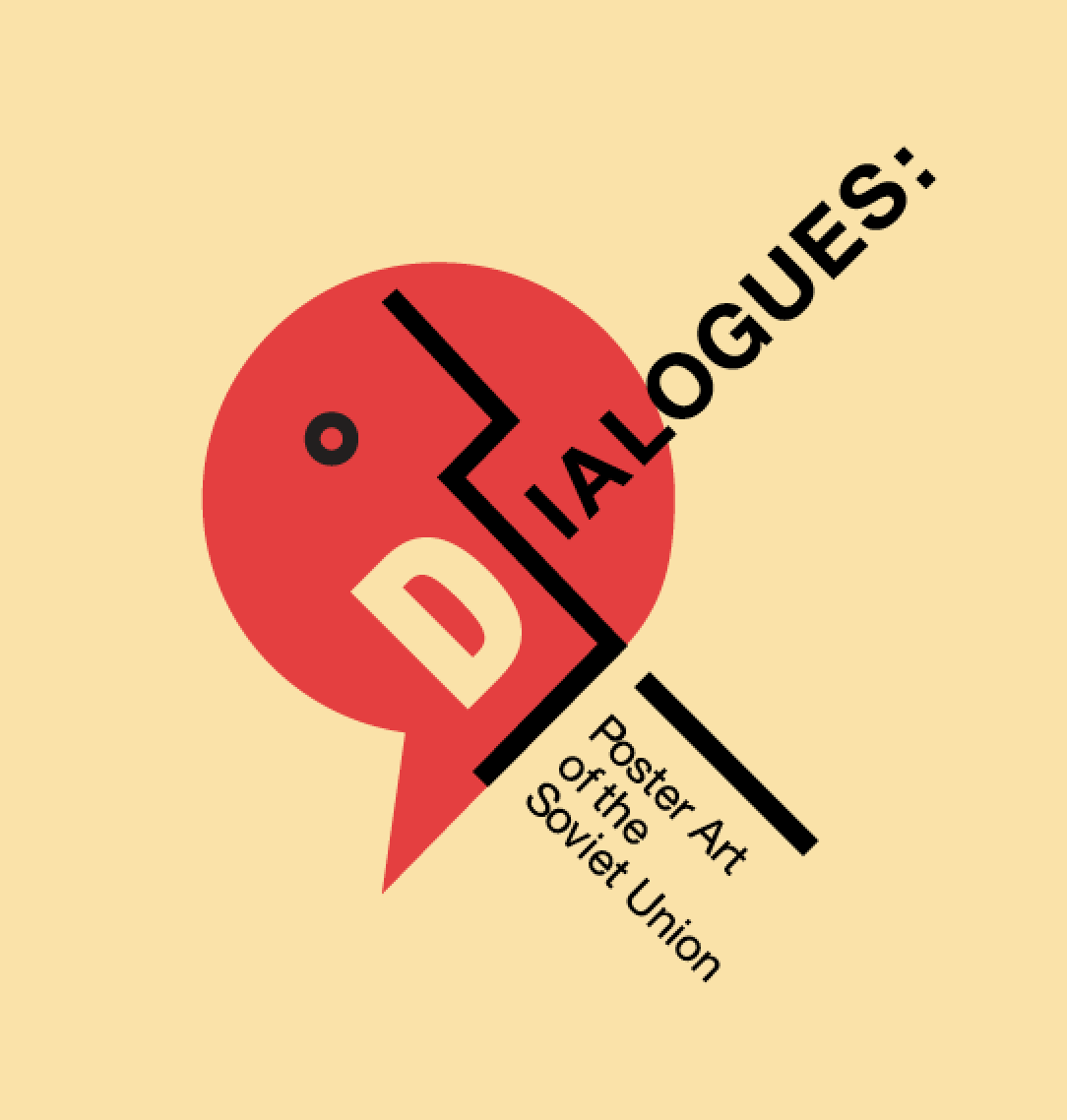 Over 400 visitors filled the San Diego City College new museum space to celebrate the opening of the Posters Show, the 25th anniversary of AIGA/San Diego and the new Fine Arts Gallery Museum. Photo : Edward Honaker
Russian dancers stepped out of the crowd periodically to reset the energy with Soviet music and dancing. Photo : Edward Honaker
Panorama of the exhibition with contemporary Dialogues posters on one side, contrasted with the 80's classics. Contrasting ideas and techniques make for a richer experience and new relevancy for the post Cold War generations.
Students, professors, Russian historians, designers, journalists... a wide mix of attendees suggest this was a show about issues and community, as much as design and poster art. Photo : Edward Honaker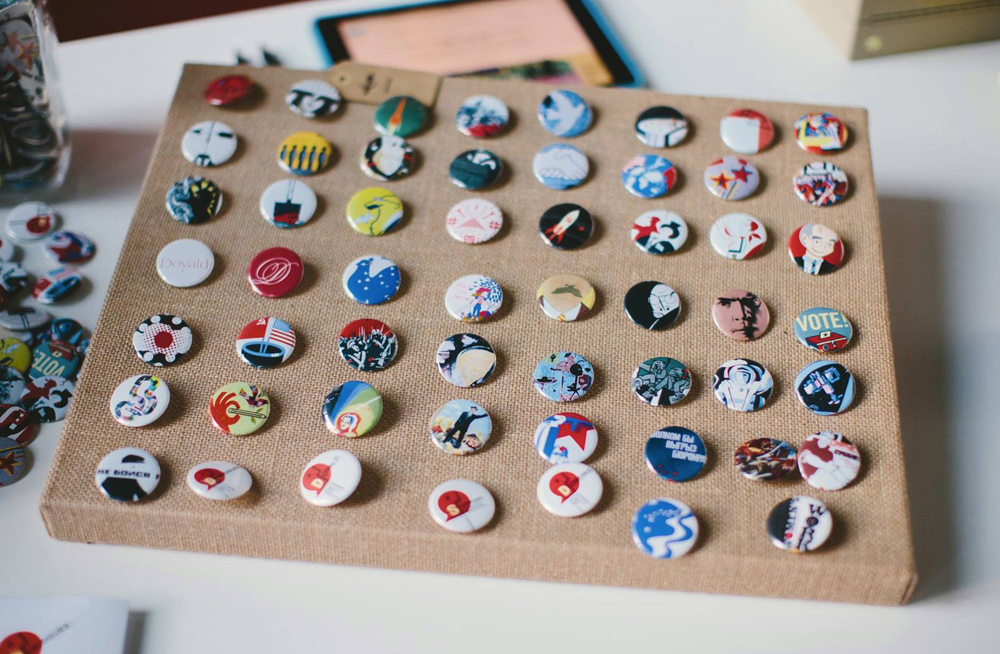 San Diego City College design students made and sold by the hundreds, button details from the collection. Proceeds went to the SDCC Doyald Young Design Library.
SDCC dancers light the outdoor patio. Photo: Edward Honaker
Viewers in front of Sachkov's 1988 triptych poster "All Power to The Soviets." Photo : Edward Honaker
Minutes before the premier.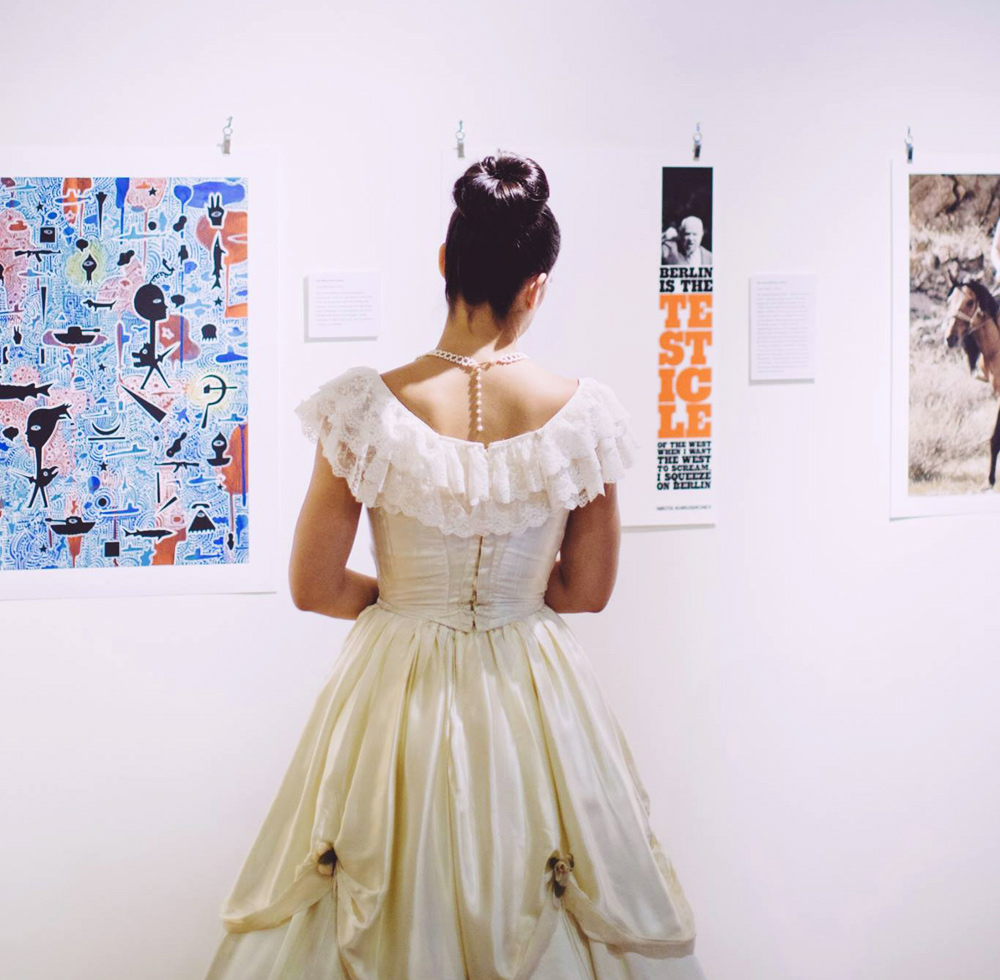 Russian dancer taking time to view the contemporary Dialogues posters. Photo : Edward Honaker
Dialogues 2015 posters from artists: Sean Adams, Michael Beirut, Gary Benzel, Stefan Bucher, Maximo Escobedo, Shepard Fairey, Jennifer Hewitson, Josh Higgins, Jessica Hische, Don Hollis, Amy Levine, MaeLin Levine, Rafael López, Steven Morris, Joel Nakamura, Fabrizio Scippa, Joel Sotelo and Michael Osborne.
For anyone born after 1990, the collection serves as a introduction to Soviet Communism, the Cold War, and names like Gorbachev and Yeltsin.
Artist Joel Nakamura included a Soviet doll to accompany his Dialogues poster contribution.
The San Diego City Fine Arts Gallery, designed by Roesling Nakamura Terada Architects, was officially inaugurated and brought to life.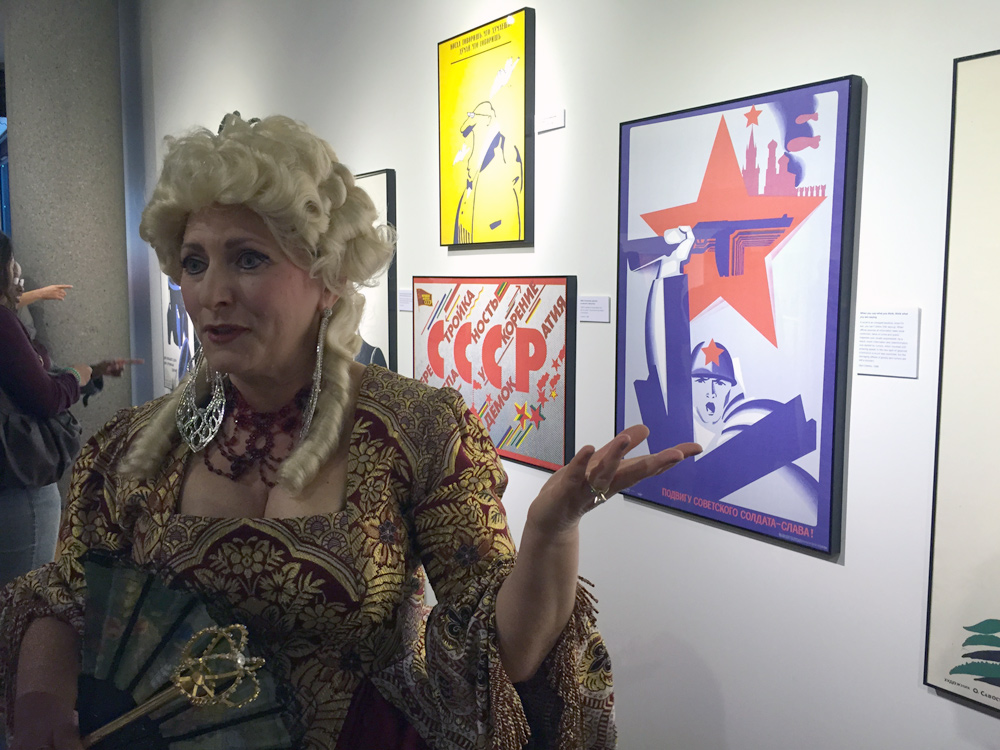 SDCC Russian history professor, Sofia Laurien, explained and translated the collections.
Soviet Poster Show logo design by Fabrizio Scippa. The Russian text translates to "Posters" in English.
Soviet Poster Show T-shirt, a detail from the 1989 "All Power to the Soviets" poster by Sachkov.
SDCC professors Candice Lopez and Sean Bacon, with their design students during gallery set-up. The exhibition became a labor of love and a portfolio piece for the design students.
The exhibition was hung by SDCC students and staff, guided by the master plan of professor Amy Levine.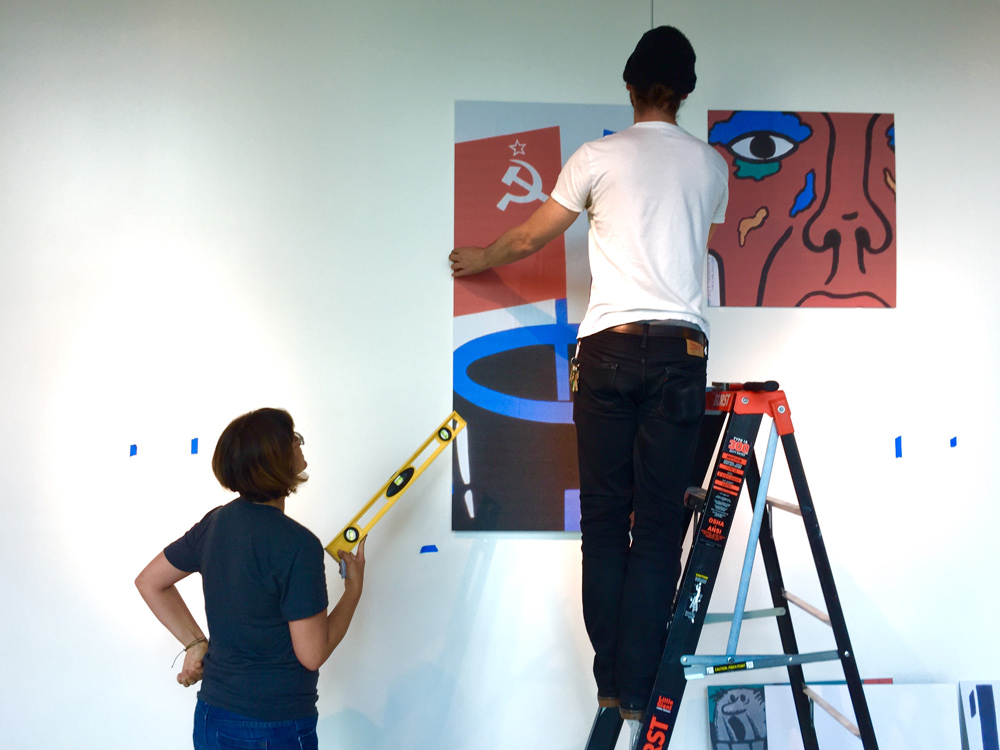 Exhibition entry and gift shop.
The arrival of the infamous orange show crates. Bravo, Candice Lopez and Ron Miriello
Cracking open the poster crates that traveled to a dozen cities in the 90's. Now, back on the exhibition tour, with new relevance and significance.
The Soviet Poster Show gift-shop cash box. Control central for sales of T-shirts, show catalogs, poster button, Dialogue poster Giclée prints and journal books.
Sean Bacon, Candice Lopez and Ron Miriello, stepping back at the premier.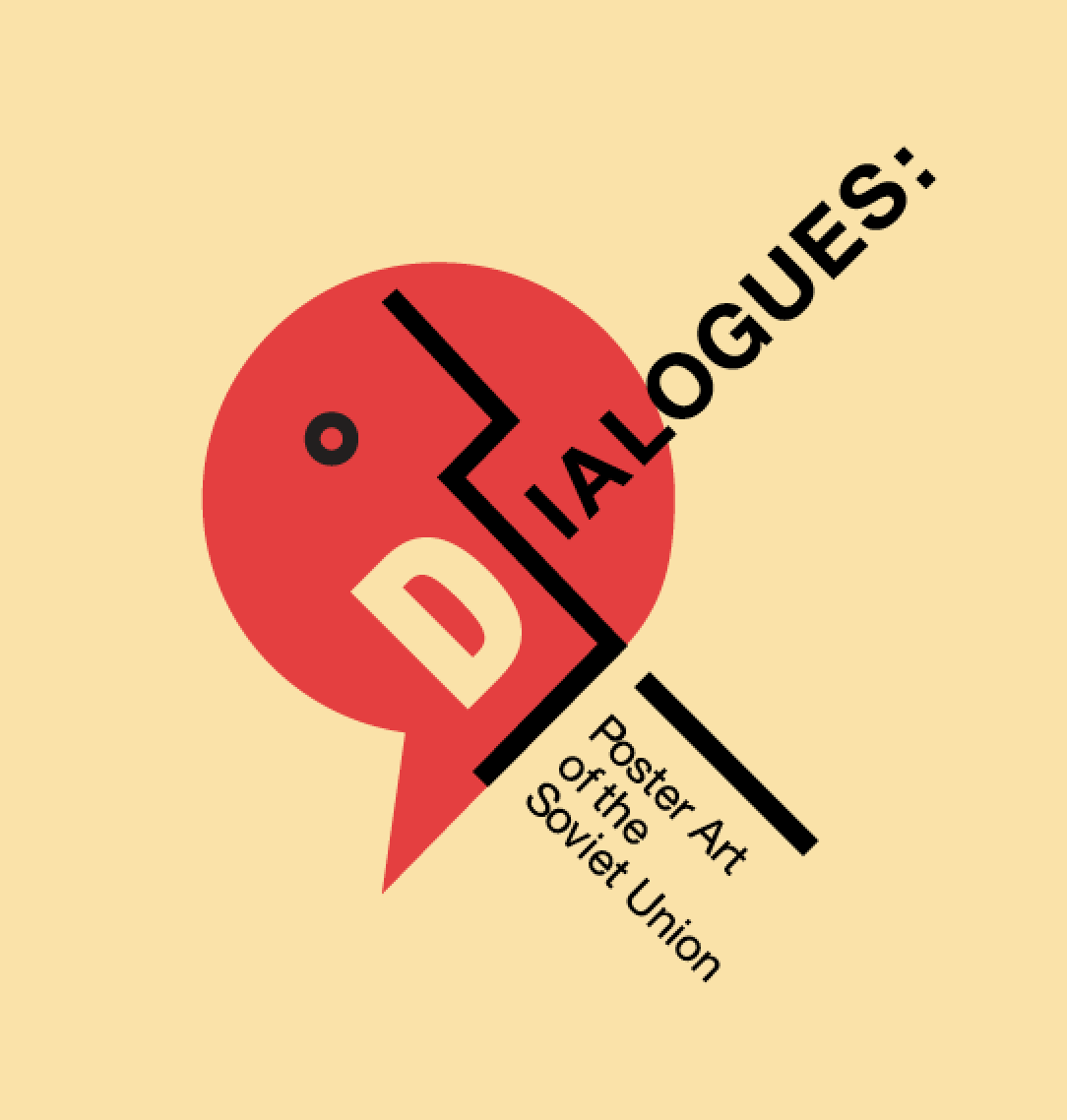 Dialogues event logo, by Joel Sotelo.